Privacy policy
This website presents information on matters such the business content of i-Television Inc. (hereinafter referred to as "the Company").
Personal Information Protection Policy
The Company has established the Personal Information Protection Policy set out below to promote the protection of personal information by building a mechanism to protect personal information and ensuring that all its employees are aware of the importance of the policy and strictly abide by the mechanism.
Management of Personal Information
To maintain the personal information of its customers in an accurate and up-to-date state and prevent incidents such as illegal access to, loss of, damage to, falsification of, or leakage of personal information, the Company has established a system for the maintenance and management of its security system, takes the necessary measures to thoroughly train its employees and implements safety measures to strictly manage personal information.         
Purpose of Use of Personal Information
While we ask customers using this website to register personal information such as their names, e-mail addresses and telephone numbers when making enquiries, the Company shall not use such information for any purposes other than to respond to such enquiries.
The Company shall use personal information received from its customers to contact customers, provide information on the business of the Company, or send e-mails or materials in response to enquiries.
Prohibition of Disclosure or Provision of Personal Information to Third Parties
The Company shall manage personal information received from its customers in an appropriate manner and shall not disclose such information to third parties except in the cases listed below.
・When the customer concerned gives his or her consent to such disclosure
・When the Company needs to disclose such information to companies to which it outsources business for the purpose of providing services requested by customers
・When disclosure of such information is required by law
Safety Measures Applied to Personal Information
To ensure the accuracy and safety of personal information, the Company implements fully secure safety measures.
Verification of Identity
When a customer makes enquires about his or her personal information, or asks to have such information amended or deleted, the Company shall respond after verifying the identity of the customer making the request.
Compliance with and Review of Laws, Ordinances and Standards
As well as complying with applicable Japanese laws, ordinances and other standards relating to personal information in its possession, the Company shall review and make improvements to this policy as necessary.
Enquiries
Contact information for enquiries regarding the handling of personal information by the Company is set out below.  
i-Television Inc.
1-5-25 Takawaramachi, Matsuyama-shi, Ehime Prefecture 790-8529
e-mail address for enquiries: info@itv6.jp
Disclaimer
With the exception of some services, the information presented on this website is provided free of charge. Regarding the browsing of websites using this site and the collection of information, customers are advised that they will be solely responsible for confirming whether or not information matches their requirements, whether or not they have the necessary legal right to arbitrarily engage in methods of usage such as storing or copying information, and complying with obligations under regulations, laws and ordinances pertaining to copyrights, non-disclosure, defamation, maintaining quality and export.
The Company shall accept no responsibility whatsoever for any loss, damages or other problems arising from the use of this site.
The Company makes absolutely no guarantee whatsoever for the legality, accuracy, morality, currency, suitability or copyright permission or existence pertaining to the content of websites, software or other items introduced on this site.
The Company shall accept absolutely no responsibility whatsoever for information, services or other items introduced on destination sites which users can access from links, banners or other means on this site.
Copyright
All contents posted on this website belong to i-Television Inc. Usage of said contents without written permission from the Company is prohibited.
Cookie policy
The Company use cookies to collect certain information for the purpose of analyzing the usage status of our customers on this site, etc., or providing customized services and advertisements to individual customers. 
1. About cookies
A cookie is a function that stores a customer's website browsing information on the customer's computer (a device that can connect to the Internet, such as a PC, smartphone, or tablet). Cookies include those set by the Company (first party cookies) and those set by third parties affiliated with the Company (third party cookies). 
2. Purpose of using cookies
The Company use cookies to improve customer convenience, such as preventing customers from repeatedly entering the same information when browsing our website. The Company use the information collected using cookies to analyze the usage status of the customer's website (access status, traffic, routing, etc.), improve the performance of the website itself, and provide our customers with It may be used to improve our services.
In addition, the following tools are mainly used for this analysis, and information may be provided to the tool provider. 
・Google Analytics
https://marketingplatform.google.com/about/analytics/terms/us/
In addition, cookies may be used for the distribution of behavioral targeting advertisements by affiliated advertisement distribution service providers.
3. Information sent by third-party cookies
This service uses third-party cookies for the purpose of access analysis and advertisement distribution. Information sent by third-party cookies is as follows.

 ・Google Analytics:
This site may use the access analysis tool "Google Analytics" by Google Inc. for the purpose of understanding and analyzing the usage status of this site by customers. Google Analytics collects, records, and analyzes your visit history using cookies, etc., but it does not include any information that can identify a specific individual. See below for details.
https://marketingplatform.google.com/about/analytics/terms/us/
 ・Social networking service (SNS):
On this site, SNS "buttons" etc. may be installed. In this case, information such as the user ID and the site you are accessing may be automatically sent to the SNS from this site, etc., without pressing a "button" or the like.
Facebook: https://www.facebook.com/privacy/policy
 ・Embed YouTube videos
On this site, YouTube video content may be embedded. When you browse this website, your web browser may automatically send information about the website you have accessed to Google Inc.
Google: https://policies.google.com/technologies/partner-sites?hl=en
 4. 
Invalidation of cookies, etc. (opt-out)
(1) You can disable all cookies at once by changing your browser settings. However, please note that if cookies are disabled, some services may not function properly or some pages may not display properly.
(2) Customers can stop (opt out) the collection and use of advertising identifiers at any time by changing the "settings" of their own terminals (devices).
 5. 
Amendments to this Policy
The Company may revise this policy without prior notice in response to the enactment, revision or abolition of laws and regulations, or social trends related to privacy protection. Please note that any changes to this policy will become effective when the changed content is posted.
----------------------------------------------------------------------------------------
本ウェブサイトは、株式会社あいテレビ(以下「当社」)の事業内容等を紹介するサイトです。

個人情報保護方針
当社は、以下のとおり個人情報保護方針を定め、個人情報保護の仕組みを構築し、全従業員に個人情報保護の重要性の認識と取組みを徹底させることにより、個人情報の保護を推進致します。

個人情報の管理
当社は、お客さまの個人情報を正確かつ最新の状態に保ち、個人情報への不正アクセス・紛失・破損・改ざん・漏洩などを防止するため、セキュリティシステムの維持・管理体制の整備・社員教育の徹底等の必要な措置を講じ、安全対策を実施し個人情報の厳重な管理を行ないます。

個人情報の利用目的
本ウェブサイトでは、お客様からのお問い合わせ時に、お名前、e-mailアドレス、電話番号等の個人情報をご登録いただく場合がございますが、これらの個人情報はご提供いただく際の目的以外では利用いたしません。
お客さまからお預かりした個人情報は、当社からのご連絡や業務のご案内やご質問に対する回答として、電子メールや資料のご送付に利用いたします。

個人情報の第三者への開示・提供の禁止
当社は、お客さまよりお預かりした個人情報を適切に管理し、次のいずれかに該当する場合を除き、個人情報を第三者に開示いたしません。
・お客さまの同意がある場合
・お客さまが希望されるサービスを行なうために当社が業務を委託する業者に対して開示する場合
・法令に基づき開示することが必要である場合

個人情報の安全対策
当社は、個人情報の正確性及び安全性確保のために、セキュリティに万全の対策を講じています。

ご本人の照会
お客さまがご本人の個人情報の照会・修正・削除などをご希望される場合には、ご本人であることを確認の上、対応させていただきます。

法令、規範の遵守と見直し
当社は、保有する個人情報に関して適用される日本の法令、その他規範を遵守するとともに、本ポリシーの内容を適宜見直し、その改善に努めます。

お問い合せ
当社の個人情報の取扱に関するお問い合せは下記までご連絡ください。

株式会社あいテレビ
〒790-8529 愛媛県松山市竹原町1丁目5-25

免責事項
本ウェブサイトの情報は、一部のサービスを除き、無料で提供されています。当サイトを利用したウェブサイトの閲覧や情報収集については、情報がユーザーの需要に適合するものか否か、情報の保存や複製その他ユーザーによる任意の利用方法により必要な法的権利を有しているか否か、著作権、秘密保持、名誉毀損、品位保持および輸出に関する法規その他法令上の義務に従うことなど、ユーザーご自身の責任において行っていただきますようお願いいたします。
当サイトの御利用につき、何らかのトラブルや損失・損害等につきましては一切責任を問わないものとします。
当サイトが紹介しているウェブサイトやソフトウェアの合法性、正確性、道徳性、最新性、適切性、著作権の許諾や有無など、その内容については一切の保証を致しかねます。
当サイトからリンクやバナーなどによって他のサイトに移動された場合、移動先サイトで提供される情報、サービス等について一切の責任を負いません。

著作権
本ウェブサイトに掲載されている全てのコンテンツは、株式会社あいテレビが所有しています。書面による許可なく、個人的な目的以外で使用することは禁止されています。


Cookieポリシー
当社は、本サイト等におけるお客様のウェブサイト利用状況を分析し、または個々のお客様に対してカスタマイズされたサービス・広告を提供する等の目的のため、クッキーを使用して一定の情報を収集します。

1.クッキーについて
クッキーとはお客様のウェブサイト閲覧情報を、そのお客様のコンピューター(PCやスマートフォン、タブレットなどインターネット接続可能な機器)に記憶させる機能のことです。クッキーには、当社によって設定されるもの(ファーストパーティークッキー)と、当社と提携する第三者によって設定されるもの(サードパーティークッキー)があります。

2.クッキーの利用目的
当社では、クッキーを、お客様がウェブサイトを閲覧する際に同じ情報を繰り返し入力することがなくなるなど、お客様の利便性向上のために使用しています。当社では、クッキーを使用して収集した情報を利用して、お客様のウェブサイトの利用状況(アクセス状況、トラフィック、ルーティング等)を分析し、ウェブサイト自体のパフォーマンス改善や、当社からお客様に提供するサービスの向上、改善のために使用することがあります。
また、この分析にあたっては、主に以下のツールが利用され、ツール提供者に情報提供されることがあります。

・Googleアナリティクス
https://marketingplatform.google.com/about/analytics/terms/jp/
この他、クッキーは、提携する広告配信サービス提供会社における行動ターゲティング広告の配信等に使用される場合があります。

3.サードパーティークッキーによる送信情報
本サービスでは、アクセス解析と広告配信の目的で、サードパーティークッキーを使用しています。サードパーティークッキーによる送信情報等は以下のとおりです。

・Googleアナリティクス:
本サイト等では、お客様による本サイト等の利用状況を把握し分析することを目的として、Google社によるアクセス解析ツール「Googleアナリティクス」を使用することがあります。Googleアナリティクスはクッキー等を利用してお客様の訪問履歴を収集・記録・分析しますが、その中には特定の個人を識別することができる情報は一切含まれません。詳細は以下をご覧ください。
https://marketingplatform.google.com/about/analytics/terms/jp/

・ソーシャルネットワーキングサービス(SNS):
本サイト等では、SNSの「ボタン」等を設置する場合があります。この場合、「ボタン」等を押さなくとも、当該本サイト等からSNSに対し、閲覧しただけで自動的にユーザーIDやアクセスしているサイト等の情報が送信されることがあります。
Facebook:https://www.facebook.com/privacy/policy

・YouTubeの動画埋め込み
本サイト等では、YouTube の動画コンテンツが埋め込まれている場合があります。この本サイト等を閲覧すると、お客様のWebブラウザからGoogle社に対し、アクセスしたサイト等の情報が自動的に送信されることがあります。
Google:https://policies.google.com/technologies/partner-sites?hl=ja

4.クッキー等の無効化(オプトアウト)
(1) お客様は、ご自身のブラウザの設定を変更することにより、いつでもすべてのクッキーを一括して無効化することができます。ただし、クッキーを無効化した場合は、一部のサービスが正しく機能せず、又は一部のページが正しく表示されなくなる場合がありますので、あらかじめご了承ください。
(2) お客様は、ご自身の端末(デバイス)の「設定」を変更することにより、いつでも広告識別子の収集・利用等を停止(オプトアウト)することができます。

5.本ポリシーの改定
当社は、法令等の制定若しくは改廃又はプライバシー保護に関する社会動向等に応じて、本ポリシーを予告なく改定することがあります。本ポリシーに関する変更は、変更後の内容が掲載された時点で有効となりますので、あらかじめご了承ください。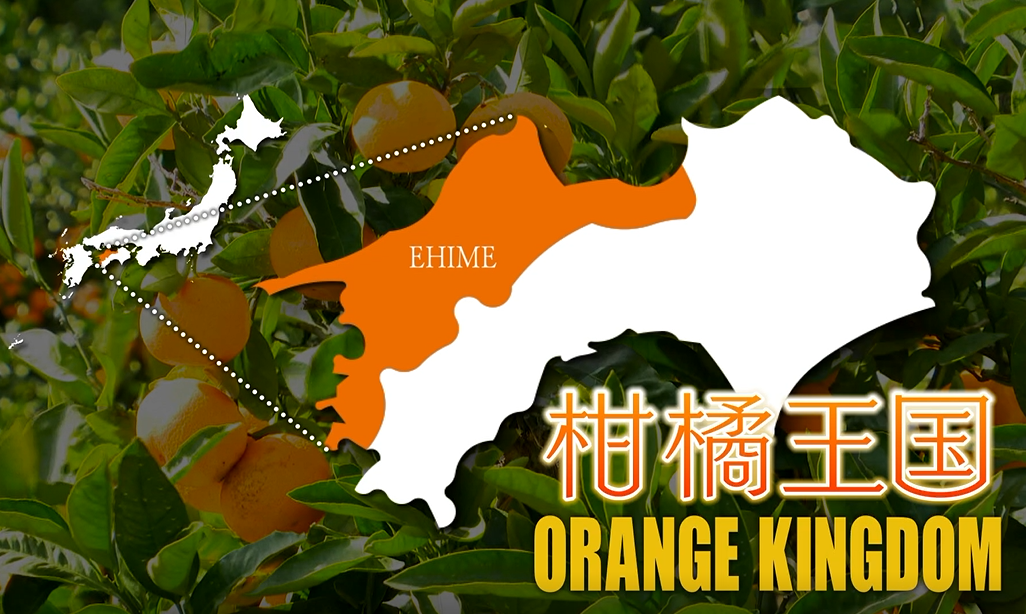 Ehime Prefecture, located on the southern island of Shikoku, is blessed with rich soil, warm sunlight, and a warm climate all year round, and produces delicious fruits all year round.
Among them, citrus fruits are famous as one of the leading production areas in Japan.